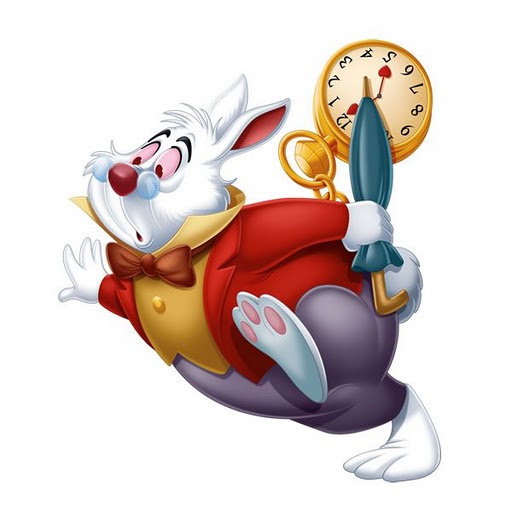 I'm late, I'm late, for a very important date!
No time to say "Hello", "Goodbye",
I'm late! I'm late! I'm late!
—The White Rabbit in the Walt Disney Film Alice in Wonderland
Okay, I'm not late...yet, but I do have a big deadline coming up and I'm about as frazzled as the White Rabbit so this post is going to be short.
I don't know about my fellow Type M'ers and all of you blog readers, but I'm not really great when it comes to dealing with deadlines. I get all anxious and bothered which makes it hard to write so awhile back I searched the web for advice from fellow authors. Here's what I found:
Sue Ann Jaffarian
is the author of the Odelia Grey Mystery Series, the Ghost of Granny Apples Mystery Series, the Madison Rose Vampire Mystery Series and a whole lot of other stuff. She writes all of these things while working full-time so she knows all about deadlines. Here's the first post of a series she did on her blog about dealing with those deadlines:
http://sueannjaffarian.blogspot.com/2014/09/diary-of-deadline-35-days.html
Here's a post I found on the
Writer's Digest
website:
http://www.writersdigest.com/editor-blogs/guide-to-literary-agents/5-tips-to-help-you-make-your-deadline
And here's one on the Write It Sideways blog:
http://writeitsideways.com/how-to-meet-your-writing-deadlines-every-time-2/
I suspect if I actually took the advice in some of these blogs I'd be a whole lot happier and not as stressed out. Next time, next time.
Okay, that's it for me. Back to my writing cave. I have that deadline to deal with.